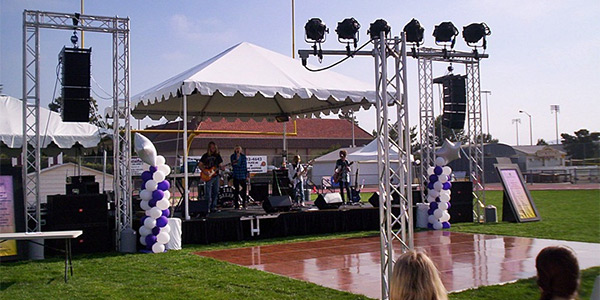 Sound Equipment Rentals in Orange County, CA
If you have ever attended a special event you'll know that music can make or break a guest's experience. It doesn't matter if you're hosting an upbeat concert or an intimate wedding, audio quality can quickly affect the mood of your space. With the help of Larson Lighting & Audio, you can upgrade your event through high-quality sound equipment rentals in Orange County, CA.
Lighting, stage and sound equipment rentals allow you to offer your guests the best technology in the industry for a fraction of the cost. Through our rental equipment you can not only transform the music at your event, but you can pump incredible energy into your gathering. Larson Lighting & Audio offers the following rental equipment and more to clients who are looking to take their event to the next level:
Production services and stage rentals: Perfect for a live concert or show, we supply a variety of different stages to support your event. Our rental equipment allows you to execute a professional-grade performance without needing to purchase expensive staging gear.
Lighting equipment rentals: We offer our clients an extensive range lighting options to help you set the tone of your event. Our lighting rentals allow you to take control over the look and feel of your space to achieve the perfect atmosphere.
Sound and audio equipment rentals: Larson Lighting & Audio supplies speakers, trussing, microphones and more to enhance all of your audio needs. Whether you want guests to hear your latest music or your wedding vows, our equipment will help you make sure the sound is perfectly clear.
DJ equipment rentals: Our DJ equipment rentals in Orange County, CA put the best gear and brands directly at your fingertips. We'll help you get crowds moving with outstanding quality at affordable prices.
Video Screens and Projectors
Upgrade your event with help from our high-quality equipment rentals. For more information on how Larson Lighting & Audio can enhance the sounds and setting of your next event, contact us today by calling 949-933-6817.